Non-surgical rhinoplasties are among the most sought-after non-surgical procedures, favoured by many A-list clients and celebrities such as Made in Chelsea star Maeva D'Ascanio. With a less invasive treatment method than traditional rhinoplasty and no downtime, we explore the benefits of this popular procedure in our guide to non-surgical rhinoplasty and why REVOLAX Sub-Q is the top choice of formula.
About REVOLAX Sub-Q
Boasting the thickest formula in the REVOLAX range, REVOLAX Sub-Q is a practitioner favourite, due to its advanced ability to mould and maintain its structure. REVOLAX Sub-Q differs from its counterparts Fine and Deep as it is formulated with a thicker gel that lasts between 12-18 months.
Sub-Q is specifically recommended for deep to severe wrinkles, such as the nasolabial folds. These properties also make it ideal for structural augmentations that require a thicker substance, such as the celebrity top-pick treatment, non-surgical rhinoplasty.
What is non-surgical rhinoplasty?
Also known as a liquid nose job, non-surgical rhinoplasty involves altering or reshaping the nose with injectable dermal filler. Like traditional rhinoplasty, this procedure is intended to refine the appearance of the nose, helping clients to achieve their desired profile by temporarily altering the structure and shape of their nose. The treatment lasts around 30 minutes as an injection of dermal filler is used to create the desired shape.
Clients may seek this procedure to alter:
A mildly crooked appearance of the nose
A drooping tip of the nose
A bump on the bridge of the nose (dorsal hump)
A flat bridge of the nose
Age-related changes
Poor appearance of the nose following unsuccessful surgical rhinoplasty
Essentially, this treatment is ideal for those who can't commit to a surgical rhinoplasty as this offers a temporary, more affordable alternative.
What dermal filler is most suited for non-surgical rhinoplasty?
For this procedure, we recommend REVOLAX Sub-Q to help you achieve optimal results. Sub-Q's viscous consistency and ability to mould the features make it ideal for use in this procedure.
The nose requires a thicker substance to create structure and REVOLAX Sub-Q can create the perfect side profile, thanks to its thick gel consistency. The filler is formulated with numbing agent lidocaine to help ease patient discomfort, helping to reduce bruising and swelling. It is also available in a non-lidocaine formulation, suitable for those with allergies.
What are the benefits of non-surgical rhinoplasty?
A non-surgical rhinoplasty can provide impressive results without the need for invasive surgery, perhaps the most persuasive benefit. However, there are additional benefits to the treatment that sway patients to opt for it, including:
No downtime
With this procedure, bed rest is not necessary, and you can continue your normal daily activities post-treatment. No anaesthesia is required so patients can return to their normal activities almost immediately.
Results are immediate
Aside from some minor swelling, the results of this injection are almost immediately visible.
Changes are reversible
As non-surgical rhinoplasties are achieved via small injections of dermal filler, reversal of results can easily be achieved by dissolving the dermal filler with Hyaluronidase – a hyaluronic acid (HA) dissolving agent.
More cost-effective than surgery
The cost of traditional rhinoplasty can vary, and can also come at a staggering price tag usually in the range of £4-8K depending on the practice. As non-surgical rhinoplasty does not involve the same degree of surgery, the cost is much more affordable.
Effective for up to 18 months
Results can vary, depending on the longevity of the dermal filler used. However, REVOLAX Sub-Q can last between 12-18 months.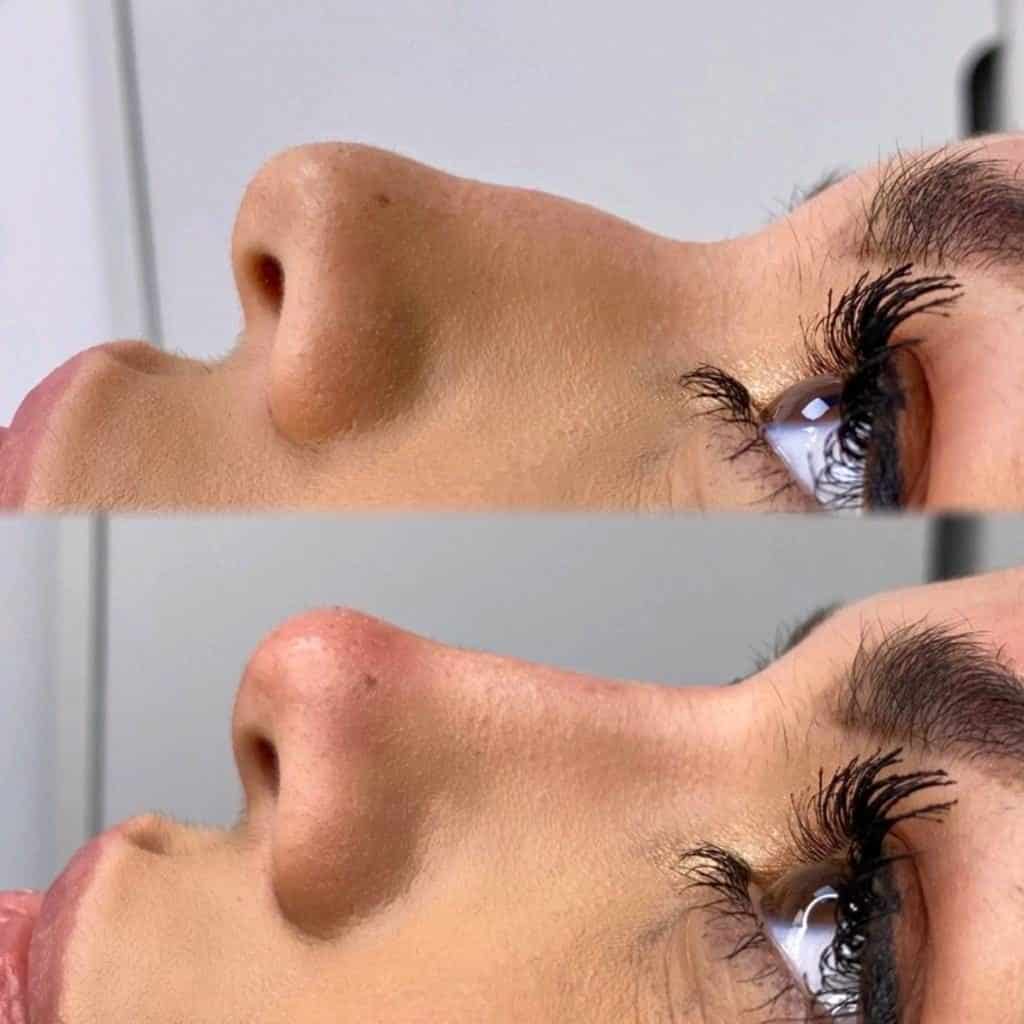 What are the risks of non-surgical rhinoplasty?
As with any procedure, there are associated risks that must be considered. When performed by a credible and skilled healthcare professional, the risk of complications from a non-surgical rhinoplasty is low. Nevertheless, there are potential side effects and complications that patients should be made aware of. We always urge patients to research their practitioners before appointments, to guarantee safe treatment and their desired outcome.
One of the most serious complications of NSR is Necrosis (tissue death.) Whilst it is a rare occurrence, this is the most severe complication of non-surgical rhinoplasty. When the dermal filler is inadvertently injected into a blood vessel, it can have catastrophic consequences. However, it is when the filler exerts pressure on a nearby vein that it begins to slow blood flow. If the filler is injected directly into the vessel, it will prevent blood from being delivered to the skin, resulting in tissue death or necrosis.
Practitioners must inject the filler with extreme caution, due to the smaller surface area of the nose area and the number of blood vessels. If the correct procedure is followed, the risk of complications is low.
Non-surgical rhinoplasty with REVOLAX
Overall, non-surgical rhinoplasty is ideal for patients looking to correct perceived flaws in the nose. The temporary procedure provides those unwilling to go under the knife with a more cost-effective solution to nasal humps and drooping tips. Keen for more? Keep up to date with the REVOLAX conversation in our blog here.
If you'd like to know more about the REVOLAX range, feel free to get in touch with us at 01925 320820 or [email protected]. A member of our friendly team will be happy to help you with any query you may have.