Over the last few years, lip fillers have seen a huge increase, taking the crown as the most sought after treatment – partly driven by celebrity endorsement and social media platforms such as Instagram including Love Island star, Faye Winter.
Dermal Fillers can be used to improve the appearance in a variety of ways and lip fillers especially can be used to help restore the lips and add volume for re-shaping purposes with stunning results. Dermal Fillers used in lip augmentations are formulated with a Hyaluronic Acid (HA) based gel that is injected to help improve the overall look of the mouth and lips. Those who opt for lip filler treatments are often looking to enhance the volume of the lips due to concerns including thin lips, lip lines and unsymmetrical lips.
However, with any injectable treatment, sometimes there are instances where complications can occur, and patients are left feeling unhappy with the result of a botched procedure. One of the advantages of Dermal Filler however is that they are dissolvable, so you can restore your natural lip shape using an injectable enzyme called Hyaluronidase. You can read more into Dermal Filler dissolving in our Fox Pharma blog here.
One patient who thought 'sod it' (literally) and opted to dissolve to refresh was none other than Love Island's Faye Winter who, dissolved 4ml of lip filler and later opted for another lip filler procedure to help achieve her perfect pout. 26-year old Faye Winter rose to fame on the ITV2 dating show, Love Island where she and her partner, Teddy Soars, came third in the popular TV show.
After the show, Faye admitted that during a challenge in the Love Island villa she had a 'little bit of an accident' where she ended up with a 'lump underneath her top lip' which also cause her bottom lip to protrude and look 'wonky' as quoted by Faye.
Because of this perceived imperfection, Faye decided that her best option was to have her 4ml of lip filler dissolved by a trained practitioner and refilled a week later to restore the balance – making it very clear to her 1.1M followers (and growing) that her filler-free look was only temporary.
For this procedure, Faye opted for celebrity Doctor and REVOLAX Key Opinion Leader – Dr Motox. In her exclusive with Fabulous Magazine, Faye urged those looking into lip filler treatments to 'check out whom you're going to' reinforcing that lip filler treatment in the UK can be administered by practitioners only having studied a one day course. The Love Island star then explained that she always makes sure to go to a qualified Doctor for all her aesthetic needs, in this case – opting for medical professional Dr Motox.
After having her lip filler dissolved, Faye waited a week before returning to Motox's Harley Street Clinic for another lip filler augmentation to restore her natural lips for a fuller and more voluminous pout. However, alternatively to her 4ml of lip filler, Faye instead opted for 1.5ml of REVOLAX for a subtle yet full look telling fans: "I just didn't need them as big because I had a different procedure done. So, I had the lip flip done and naturally, they are shapelier and don't need to be so big.'
The build-up of lip filler in Faye's lips meant her look strayed a little away from the natural look and despite being to some people's preference, Faye confessed: "Looking back at the photos, I probably should have done it sooner" – describing her lip filler before having them dissolved.
Now, Faye is flaunting her beautiful new pout achieved with REVOLAX with the help of Dr Motox.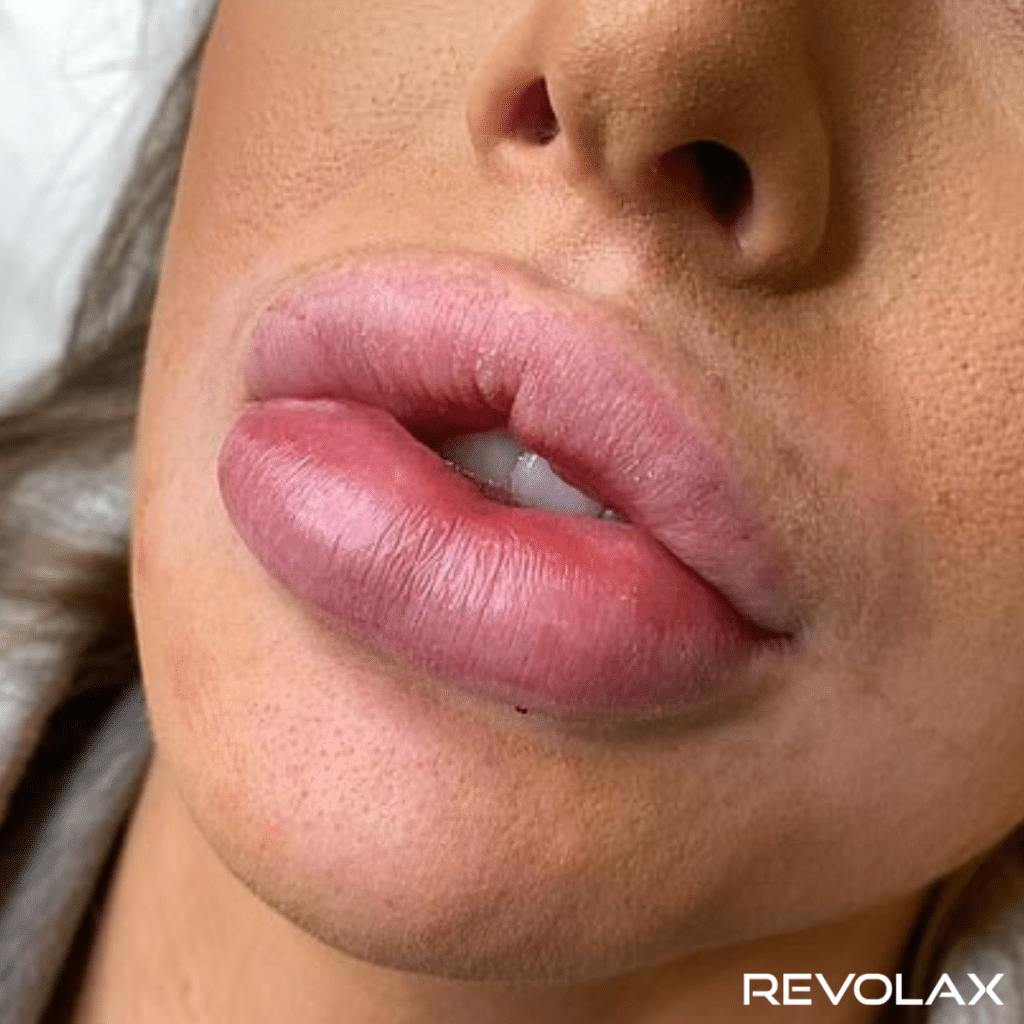 For more information on REVOLAX Dermal Fillers visit revolax.uk or follow our Instagram @revolax_uk for the latest news and campaigns.