At REVOLAX, we're loving the love island drama, as things heat up in the South African villa. After 9 seasons, things were starting to get a little same-y so we're thrilled to have Maya Jama gracing our screens. Let's spill the tea on all of the drama and delve into what cosmetic enhancements the islanders have had.
What cosmetic enhancements have the cast of Love Island 2023 had done?
The Island secrets that everyone wants to know…
Islanders Tanyel and Anna-May have been open about their cosmetic enhancements, including lip filler, while others have undergone procedures such as composite veneers, breast augmentation and fat-dissolving injections, in preparation for their stint in the villa.
6"5 bombshell Tom entered the Love Island villa on a mission to steal someone's girl, but it's the ladies who are REALLY playing the game this year. Ron, Tom and Kai are being stolen left, right and centre, making it hard to keep track of all of the re-shuffling that's going on and if Sunday's episode was anything to go by, we have a feeling that there's going to be a lot more fiery showdowns in store for us.
But most of all, we're just hoping that farmer Will gets coupled up to put us out of our misery, bless him…
Whether the January series is giving you all the inspo to start swiping again, in the hopes of coupling up for Valentine's day, or if the show's cringeworthy moments have put you off romance altogether, we're here to bring you a true love that will never let you down.
Discover some of our favourite REVOLAX transformations here.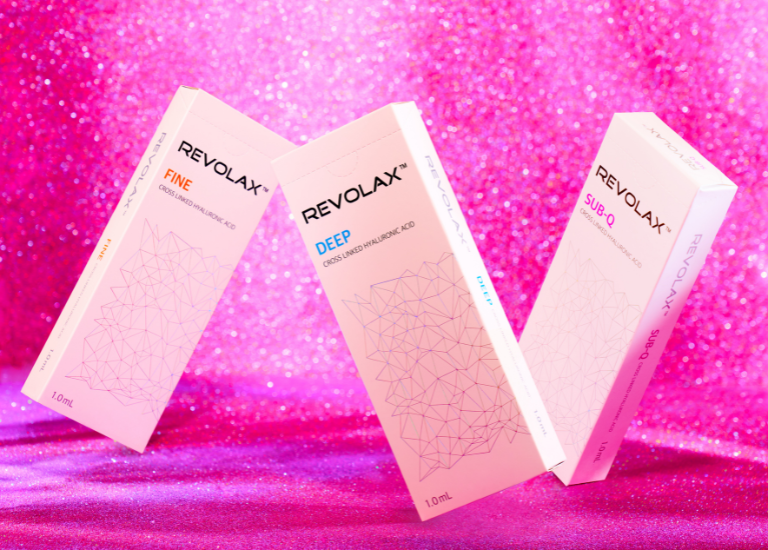 Love Island: Starring The REVOLAX Range
REVOLAX Fine
As fine as her namesake, the most lightweight filler in the REVOLAX range may seem shy, but this dark horse is one to watch! With her thin, highly-crosslinked formula, Fine is ideal for defining the lips and smoothing lines. She knows what she wants, so she's waiting for that special someone to come along.
REVOLAX Deep
REVOLAX Deep is a natural flirt and her endless versatility means that she can have her pick of the bunch. Embodying true fire sign energy, Deep can be a bit of a player, but once she's yours, she'll stick around. Whether you're looking for a long-lasting lip filler or a cheeky boost of volume, REVOLAX Deep is everyone's dream girl but watch out, she might just break your heart.
REVOLAX Sub-Q
If you're looking to settle down with a reliable and loyal partner, Sub-Q boasts supreme longevity, lasting for 12-18 months to see you through cuffing season AND hot girl summer. Ideal for defining the jawline and creating a flawless liquid nose job, Sub-Q is here to bring out the best in you <3 awww.
Learn more about the range here or discover the material properties that make REVOLAX our favourite dermal filler.
If you're planning a summer glow up, look no further than REVOLAX, The Nation's Favourite Dermal Filler.